The second International Data and Information Management Conference (IDIMC) was held by the Centre for Information Management at Loughborough University on 12th and 13th January 2016.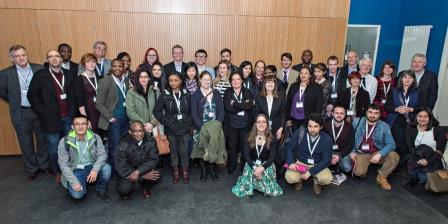 The conference aimed to bring together researchers, managers and policy makers from academia, industry, government, commerce and the third sector. To follow on from the 2014 conference, 'Making connections', the overarching theme of this conference was 'Exploring our digital shadow'.
The first day focussed on early career researchers, with a programme including a selection of workshops designed to hone skills in information management research. The second day comprised a series of invited and contributed papers and posters with a broad appeal across the sector. There were excellent networking opportunities throughout both days.
Melanie Zimmer, Cohort 2 student, was one of the CDT-EI students who attended the conference and had this to say;
"Even though the "International Data and Information Management Conference" was not directly targeted to my PhD topic, I - as a PhD student half way through my first year - gained a lot from attending it. During the first day of the conference I attended speakers would talk about "The digital transformation of defence operations in the 21st century", but also share their opinions on "8 ways to develop your research". Two workshop sessions were offered in each of which one out of four workshops could be chosen. Especially "Writing journal and conference papers" and "Reflections on the 'how'. Reconsidering research methods in Information Systems", in which skillful researchers would share their experiences, were really helpful for me. Also of interest was the "5 minutes madness" session I which other PhD students had to present their research within 5 minutes. Although the conference was aimed at a broad audience, I felt it perfectly focused on PhD students and early career researchers."
With thanks to IDIMC for the photograph.
The proceedings of the conference can be downloaded here.