As part of the CDT programme we take part in a unique set of training focusing on leadership, management and teamwork skills under the 'transition zone'. Last month I got the opportunity to apply these skills in the Engineering Young Entrepreneur Scheme at Nottingham University. The challenge ran from October 18th to 20th and consisted of two full days of training and mentoring before we pitched a business to a panel of judges on the final day in the form of a presentation.
Our team consisted of cohort 2 and 3 students including myself (CEO), Marcus Pollard (Finance Director), Joel Earps (Research and Development Director), Robin Hamer (Commercial and Marketing Director) and Athansios Pouchias (Operations Director). Our business was called 'Intelligent Cold Engineering – ICE' and aimed to reduce food waste within the cold store part of the supply chain through technology based on the internet of things and sensor-based intelligent management system.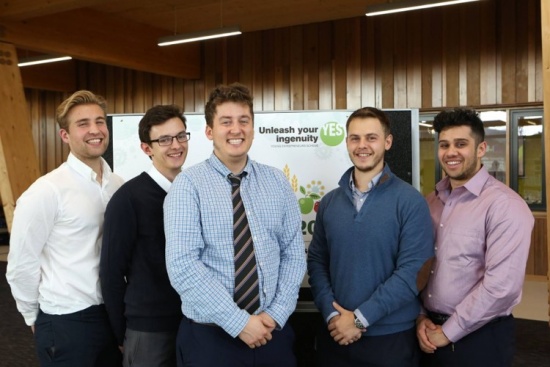 Even though we were pitching a fictional company for a fictional investment, we still applied the knowledge we had gained through the seminars and training sessions in finance, marketing strategies and intellectual property to develop a real and convincing business model. For this reason the competition was an invaluable experience to undertake during the PhD. In addition to our studies, we got the opportunity to see and understand the necessary steps in building a start-up company and what must be considered. One of the most insightful aspects of the competition was the ability to see and reflect upon other groups and other entrepreneurs work, and see what methods were successful in obtaining funding. As early career researchers gaining an understanding of this is truly valuable. Also, we had hours of personal mentoring with financial experts, business leaders and venture capitalists who were able to reflect upon their own experiences within obtaining and giving funding.
The event was very well run, as each day managed to fit in so many activities in addition to us developing our business pitch. Personally, I am truly grateful that I got to experience this opportunity with close colleagues as it was through hard work, and a positive atmosphere that got us through the often long nights required to finish the work. I would also like to thank Tracey Hassall-Jones for organising the event. I believe this was a fantastic opportunity to practice presentation and finance skills. However, what I was most grateful for was the opportunity to see how non-technical audiences interpret the work of the CDT. Embedded intelligence is a very technical field and often as PhD students we spend the majority of our time communicating with our technical audiences, often we can forget just how important it is to develop our communication skills to all audiences and understand what their agenda and take away might be. I would thoroughly recommend this experience to students in the other cohorts, but make sure you approach it with a positive attitude where your aim is to learn as much as possible from the experience, even in failure. This is a particularly important skill as an entrepreneur because if you aren't failing, you aren't trying hard enough.