Written by Cohort 2 researcher Athanasios Pouchias
I had the great honour to be awarded with an Armourers & Braziers travel award, to attend the SAMPE Europe Conference 2017. SAMPE is a general organization devoted to the promotion of technical excellence in materials and process engineering, totalling around 15,000 engineers, technologists and materials scientists.
The conference took place in Stuttgart, Germany from 15 to 16 November. The conference covered an expansive list of subjects regarding lightweight materials and their processing. The conference commenced with keynote presentations of BMW on "Multifunctional Materials for Aeronautics and Space" presented by Dr. Gunnar Rieber and Lufthansa Technik on "More mobility for composite aircraft" by Dr. Christian Sauer. The first day was concluded with tours of AUDI, Porsche, DITF, Trumpf and Fraunhofer ICT. The second day more than 64 professional speakers from both industry and science came on stage in four parallel sessions.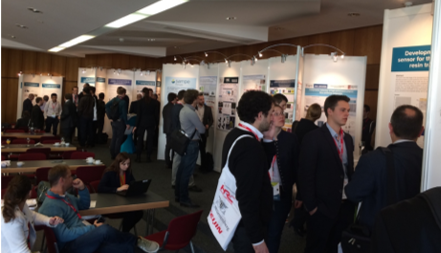 During the conference I had the opportunity to present a poster of the work I have carried out during the first year of my PhD. My research focuses on monitoring the Resin Transfer Moulding (RTM) process which is one of the most promising available technologies for manufacturing large complex three-dimensional parts from composite materials. The collection of the parameters that are used by current models is inadequate and therefore, online monitoring of the process is proposed to enhance the understanding of resin's flow and cure. The RTM process is mostly used in aeronautical, automotive and wind energy applications, such as the manufacturing of wind turbine blades.
The SAMPE conference supports sectors occupied with the aerospace and defence, the automotive and transport, the offshore and energy and many others related with advanced materials and process engineering. The main sessions of the conference addressed the developments on materials, like composites, new light metals and alloys.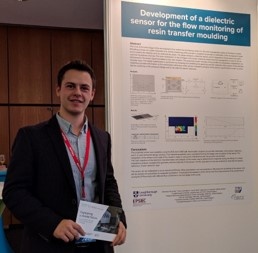 The conference was very interesting as I could notice great interest on composite materials, mostly thermoplastic materials for automotive and aerospace industry. Also, there is a push from the industry to automate manufacturing processes and this is urged by the automotive sector because of the high-volume production needs. Germany is one of the leaders in addressing the "Industrie 4.0" concept and this couldn't be missing from this conference. I was fortunate to network with professionals who work on the "Industrie 4.0" concept and share my knowledge as the core subject of my research combines embedded intelligence with materials science and development.
The presentation of my poster offered me a great opportunity to communicate and discuss the project with the leading manufacturing and advanced materials associates. Finally, this conference provided the chance to network with the scientific community and professionals and receive their insight on the state-of-the-art work. I believe attending this conference has been a rewarding experience and has enhanced my confidence for the future.
---