Our cohort 2 student, Melanie Zimmer, attended the joint IEEE International Conference on Industrial Cyber-Physical Systems (ICPS2019) and IEEE International Conference on Multisensor Fusion and Integration for Intelligent Systems (MFI2019) at the beginning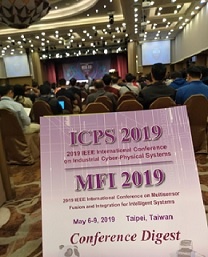 of May to present part of her research work.
Melanie says:
"The conference was held over a total of four days and provided a nice balance between academia and industry. One of the main focuses of the conference was on how industrial cyber-physical systems and services can be designed and deployed by industry.
The event started with the IEEE International Industrial Summit on Robot Operating System (ROS) 2.0. During this summit, different keynote speakers from companies such as ADLINK Technology, NVIDIA, Microsoft and academic representatives from the National Taiwan University or Fraunhofer IPA covered aspects ranging from the future developments of ROS to industrial applications. One interesting announcement was the support for ROS on Windows and Visual Studio that has been officially released as this will open further possibilities for ROS developers. For the second and third day, additional industry-focused events had been organised for the first half of the respective day, discussing the topics of "AIOT and Robotics Activating Industrial Cyber-Physical Systems on Intelligent Manufacturing New Biz" and "Engineering Systems of Cyber-Physical Systems". The remaining afternoon sessions on both days and the whole of Thursday were filled with conference presentations.
When presenting my own work, it was very encouraging to receive positive feedback from attendees, and importantly, to get told that the work I am currently focusing on is seen as having great potential to help operators on the shop floor with their processes."
---