Our cohort 4 student, Stephen Ward, recently attended the International Engineering in Medicine and Biology Conference.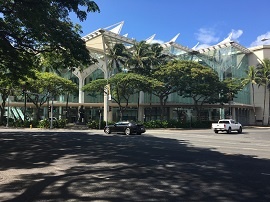 The 40th International Engineering in Medicine and Biology Conference was held in Honolulu, Hawaii from July 17-21, 2018. The theme of this year's conference was "Learning from the Past, Looking to the Future". The conference covered a range of diverse topics including cutting-edge research and innovation in biomedical engineering, healthcare technology R&D, translational clinical research, technology transfer and entrepreneurship, and biomedical engineering education.
Stephen gave us a summary of the conference:
During the conference I attended the "Engineering and Medicine in Extreme Environments Workshop". The workshop presented world-leading experts in varying research fields ranging from engineering and medicine in diving, space, tactical forces and other extreme environments. Many themes were discussed with the overall aim to enhance human comfort, performance and survival in extreme environments. This workshop was particularly relevant to my research area, and provided an excellent opportunity to increase my awareness of the work being completed by other researchers, as well as providing great opportunity for networking.

In addition to partaking in the workshop I also attended a range of interesting and informative presentations and mini-symposia as part of the main conference proceedings. The thought provoking topics helped identify some further areas of interest which will be useful in my own research.
---