World Tribology Conference (WTC) is open to those wanting to highlight progression in the field of Tribology. The conference is held every 4 years and the venue changes on each succession. The 6th WTC was held in Beijing from 17th September to 22nd September 2017. Jamal Umer and Gajarajan Sivayogan were accepted to present at their findings at this conference.
WTC held over 1000 oral presentations and ad a wide range of applications where tribology is of high interest and important, ranging from bio technology, engine component and space. While many interested presentations ran in parallel, every day of the conference was highly useful for advancing research and seeing how others apply the same theory behind very different background.
Jamal Umer presented his work on the friction optimization in internal combustion engines, specifically at the piston ring-liner interface. The lubricant-surface combination with various additive in the lubricant is critically analysed and explained with proper mathematical modelling is adopted to explain those results.
Gajarajan Sivayogan presented his work on hypoid gears with particular interest on advancing current modelling techniques, with particular interest in how the lubricant behaves in such complex gearing systems. Automotive industry are highly keen on this as it can aid in reducing NVH issues, increase durability and ultimately increase efficiency.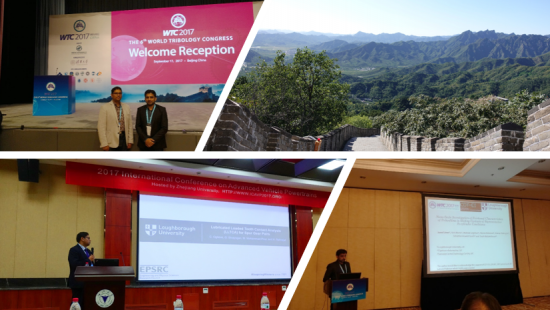 Both CDT students found the audience to be engaging and very helpful in providing support and advice on where the effort for the respective investigation should go towards. In fact the same can be said for the whole conference and Beijing. Both the locals and invited people were welcoming and kind, the atmosphere of the event was a highly delightful and a wonderful experience all together. It is important to mention that this conference gave a best platform for networking and collaboration with the some world leading tribology's and scientist across the globe.
Following on WTC, Gajarajan Sivayogan was also invited to present at International Conference for Advance Vehicle Powertrains (ICAVP) where this was based in Hangzhou, China. Gajarajan Sivayogan presented his collaborated work with a Master's student Callum Oglieve on Lubricated Loaded Tooth Contact Analysis (LLTCA). Where the main objective is to provide an alternative method to traditional Tooth Contact Analysis (TCA). The key differentiator between LLTCA and ordinary TCA is that TCA does contact consider rheology aspects, where the new proposed process does.
Like WTC, the audience in ICAVP were highly interested in the topic and highly engaged with the topic with very useful advice on how to improve the work further.
Overall the experience in China was unforgettable and invaluable and can be highly recommended for future trips…
---