Cohort 3 researcher, Robin Hamer, reports on the 3 day event organised by his co-sponsor EDF Energy for postgraduates, EDF personnel and academics.
Day 1 – Monday 25th September
The first day of the event consisted of interesting talks from Xavier Mamo (UK R&D Director) and Jean-Paul Chabard (Scientific Director R&D). These talks consisted of EDF's scientific plan, their 2020 and 2030 vision which included plans for innovation. It was useful to align my PhD with the future plans of EDF as it was possible to see the contribution that I could make. Furthermore, I gained an understanding of how the business operates more thoroughly, aided by the ILM assignments. The poster session provided an opportunity to network and share work with fellow PhD students, the directors of EDF and other academics whom were interested by the concept of 'safety-II', especially Xavier Mamo.
Day 2 – Tuesday 26th September
The second day consisted of more presentations from EDF employees, previous PhD students and technical presentations from current PhD students. The technical presentations provided a good insight into what other students at various universities around the UK were doing within the realm of the energy sector. Although my PhD seems to be very different from the purely Engineering and Chemistry based PhDs, it was still good to have some exposure to where my PhD fits in with EDF as a company, and the other students. Two presentations stuck out for me on this day: Paul Spence, EDF Energy Director of Strategy & Cooperate Affairs and Philip Ball, Leadership Development Partner. I enjoyed Paul's talk about how EDF plans to grow, change and innovate to meet their 2020 and 2030 goals and I enjoyed the discussion regarding the imminent and future challenges, of which I posed my own questions. Philip's talk about leadership and a technique to develop ones own leadership (Transactional Analysis) was very useful as we have not yet touched on it in our CDT training sessions. I felt the presentation made me more aware of how I act myself and thus how to best deal with others in a leadership role. The evening was a great time to relax and network in a less formal way as everyone headed to the pub and did an Olympic themed quiz. I found it much easier to talk to network especially with the higher up members of EDF as everyone seemed to drop their guard which made conversation and discussion much easier.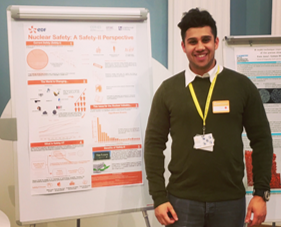 Day 3 – Wednesday 27th September
Day three was the last day and since we all left at midday not much happened on this day. Everyone had the opportunity to have a tour of EDFs on sight Geo-solar centre which supplies Cannington Court with 100% renewable energy making it fully self-sustaining. It was interesting to see the technology behind this initiative and to see how easily building can become fully self-sustained.
This event was in all a great success. It was extremely useful to listen to the presentations by employees higher up in the company whom exposed the students to the overall goals and vision of EDF. This helped us not only understand the different subsections of the business but helped us understand where our PhD fits into the bigger picture and thus gave us a sense of purpose and that our work was actually mattering. I found it very useful to network with other students and found that three other students at the retreat are from Loughborough also. I have definitely created some network opportunities and am looking forward to returning next year where I hope to give a technical presentation about my work.
---