Joe Holt and Orange Gao attended the Digital Economy CDT Network (DEN) Writing Retreat. 28 PhD students from across nine of the DEN CDTs attended the 2-day residential retreat, which took place on 21-22 March, including Cloud Computing, Digital Civics, Financial Computing, Healthcare Innovation, HighWire, Horizon, Media & Arts Technology and Web Science centres.
The retreats, funded by the Network, provide the opportunity for CDT students to focus on a piece of research writing of their choice, where they can work individually in a series of time-focused sessions, whilst benefiting from being able to network and receive support from peers during the breaks and over dinner.
Speaking about her motivation for attending Orange said "Most of time, we never get a chance to focus on writing in the office. Brilliant ideas and thoughts should be written down, but with always lots of things to do and we push writing to the lowest priority. This was a chance for us to concentrate 100% on writing."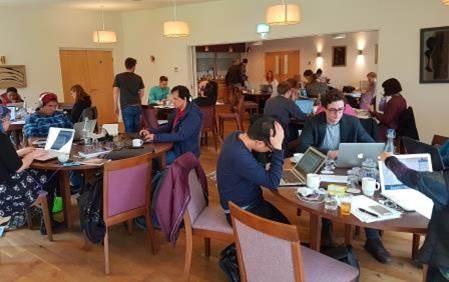 Orange concluded "It was a brilliant time to get to know myself. From this experience, I realise that I can be productive if I focus to do something. I understand more about saying "one weapon for beating procrastination is starting somewhere… anywhere". I didn't have a clear structure of how I should write before attending the retreat.
The event is well organised and the facilitators are extremely helpful. They helped us to set the writing goals: long, medium and short-term. Once we started, everybody was focusing on their own work and I was enjoying the time with professional people. I was impressed by enthusiastic students and especially learning atmosphere. I couldn't believe I could constantly working for 1 hour without being distracted by social media or being lazy!"
---