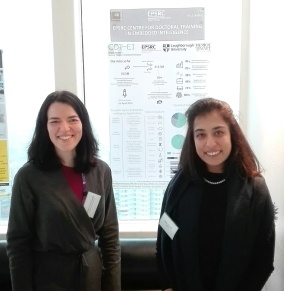 The CDT in Embedded Intelligence was one of the four CDTs invited to this theme day dedicated to showcase the good practice in this area in the UK. Named as one of the Eight Great Technologies in 2012, identified as one of the strengths of the UK, and with the potential to revolutionise the economy and society over the next 20 years, the RAAI community met in London on Jan 31st to share experiences and be evaluated in front of a prestigious international panel which included members from Harvard Uni, UC San Diego, EPFL (Lausanne), Leeds, King's College and UCL, and experienced industrialist (eg Dyson, iTechnic and RU Robots).
Our Executive Director, Dr Carmen Torres-Sánchez, represented the CDT-EI and explained our strategy in training provision through our 'Transition Zone', breadth of research topics covered, sectors who have partnered with us and quality of the student experience.
Thanks to the EPSRC for inviting us.
---