The Pint of Science festival is an annual public engagement festival to bring the latest research to the public in an accessible format. Events take part simultaneously across the world in a range of pubs and bars with themes throughout all areas of research. Atoms to Galaxies is the theme that covers physics, chemistry, maths and astronomy. Hosted at Spanky Van Dyke's, Nottingham, the Atoms to Galaxies team held several events throughout the week. I spoke at the "Making the Future" alongside two other speakers from the University of Nottingham's School of Physics and Astronomy.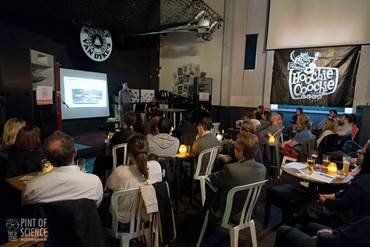 The bar was open when I arrived and people were already making themselves comfortable seated around the stage at small tables. There were activities to build molecules from play-dough and sticks while everyone waited for the event to start. The atmosphere was friendly and relaxed, although I was somewhat nervous, as I was the first to speak. Having never delivered a talk to a public audience before, this was a new experience. Producing the presentation had been a challenge to try to give as much interesting information as possible, whilst simultaneously making it accessible to a wide range of people.
After a welcome and introduction I was up to give my talk, "Cars on a Diet". This talk aimed to highlight the reasons why automotive manufactures are trying to reduce the weight of their vehicles, why it is actually quite difficult to do so, and what technologies are currently being implemented. I was handed a microphone, which was also a first, and off I went. The talk was well received and after about 15 minutes the floor was opened up to questions. I had some interesting questions relating to joining of composites and the difference between Formula 1 and road cars, which provoked some interesting discussion. Afterwards I could enjoy the rest of the talks, the interactive activities and the complementary Pints, of Science.
I found this a rewarding experience in the preparation and delivery of the presentation for such a varied audience. I had the opportunity to talk with audience members in a little more detail during the break and also enjoyed discussing with other researchers about their interests. Throughout the entire event everyone was engaging and a pleasure to talk to.
For more information on future Pint of Science event: https://pintofscience.co.uk
---