David Czerski attended and presented a poster at this year's IMAPS MicroTech 2016 conference on sensors, MEMS and advanced packaging hosted by Heriot-Watt University. Exhibitors at the conference included Filtronic, Optocap, Unisem, and Gen3 Systems among others displaying some of their test and assembly equipment. Academic exhibitors included The University of Edinburgh, Heriot-Watt University and the University of Strathclyde.
The conferenced started with talks from industry, Semefab and Kelvin Nanotech discussing the companies' initial set up, facilities and future developments. This section of the conference was finished by a talk from Prof. Marc Desmuilliez on development of a novel microwave curing oven.
What followed was a discussion on engaging with industry, featuring academics from HWU and UCL, and industry representatives from Cirrus Logic and Finmeccanica. The group discussed challenges and benefits from academic and industry joint projects, covering areas of communication, timelines and IP.
This was followed by a "30 second" presentation from each person presenting posters before the poster session started. Posters where from Edinburgh, Strathclyde and Heriot-Watt Universities featuring a range of topics from thin films technologies to bio-inspired MEMS devices.
Next were talks on MEMS. Systems Plus discussed how wearables are now driving demand for MEMS, pushing towards smaller, lower power consuming and low costs systems. Kiaim spoke of their transceiver technology combining MEMS with optical waveguides for hybrid circuits. And Cirrus Logic stressed how packaging is a fundamental part of the system design and not an afterthought.
The final session on advanced packaging had Unisem tell us about packaging technologies for MEMS products and the technologies that have become a standard in the industry. Andrew Holland replaced one of the programme's speakers who could not make it, and we learnt of the "Bean IoT" sensor that he is developing and hoping to have on the market in the next year. A low power sensor the size and shape of bean, carrying a number of sensors including temperature, gyroscope, CO2, with wireless charging. METBS then spoke of packaging requirements for high reliability applications, medical sector, defence and aerospace.
The MircoTech conference was a great opportunity to learn about current developments and challenges in the semiconductor and microelectronic assembly and packaging industry. Offering a chance to meet with industry and academics in the area and hear their concerns and thoughts on opportunities for the future of the sector.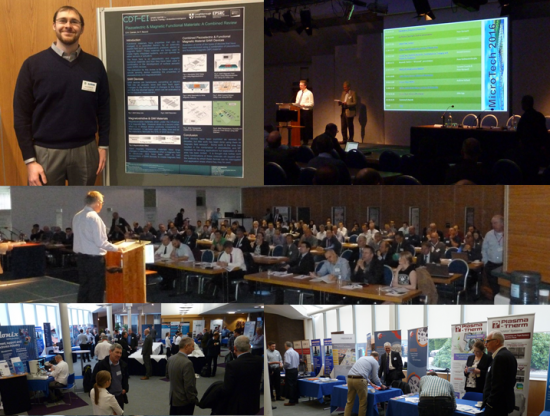 with thanks to Piers Tremlett – Hon Secretary IMAPS-UK for some of the photographs
---