The CDT team embarked on the 2015 recruitment roadshow earlier this month. The roadshow kicked off in Greece visiting the National Technical University of Athens. Our CDT Director Prof Paul Conway was invited to deliver a keynote titled "Embedded intelligence to enable operational efficiencies in automotive manufacturing". He illustrated a number of embedded intelligence projects are currently being implemented in the UK by manufacturers. One project enables real time asset tracking for returnable transit items (RTIs) via the use of RFID tags. Each RTI is assigned a unique identity and the data collected can be used to perform business and process analysis enabling improved supply chain visibility and process optimisation. Developments in RTI intelligence improve functionality, increase location accuracy, allow condition monitoring and reduced RTI losses.
The keynote was followed by a presentation and Q&A session about our Centre for Doctoral Training given by our Deputy Director Dr Carmen Torres-Sanchez and PhD student Dimitris Pantazis.
Next on the schedule was the University of Patras, where the team presented at the National Conference of Students of Electrical and Computer Engineering (Sfhmmy8). The conference is the annual conference of students of Electrical and Computer Engineering and has been conducted since 2007 in various cities of Greece. The goal of the three-day conference is to bring together students of all departments of Electrical Engineering, Computer Engineering and Informatics to learn about new technological developments and new labour market challenges.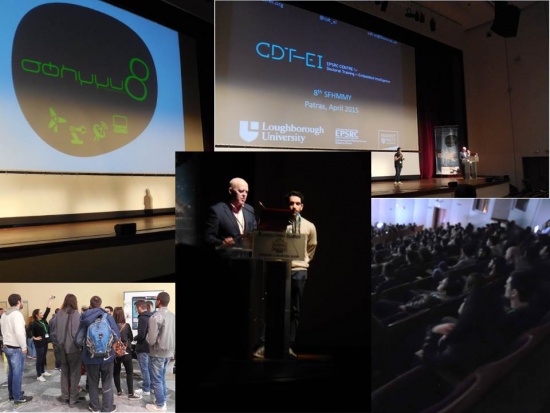 ---